Linck
LINCK ensure worldwide leading market position for sawmill machinery with exceptional vertical range of manufacturing and unique wealth of experience. Partnership of the largest European sawmill industries with this experience and working for the wood-working industry for nearly 180 years. To carry on supporting the latter through highest quality and exceptional vertical range of manufacturing, LINCK daily work on innovations for higher yield and optimum processing.


The profiling technology is the most efficient process for producing lumber. Profiling lines produce center products and sideboards in one single pass: fully automatic and monitored by one operator only from its ergonomic central control panel. High precision saw lines produce high-quality lumber with narrow dimension tolerances being sought after on the market.
The optimizing program uses the 3D-data from the entrance scanner for determining the optimum sideboard thickness, width and position. The permitted dimensions are taken from a table edited by the operator which also includes values. Additional data such as permitted percentage of wane and cutting lengths are also used for determining dimensions. Value optimized sideboards are the result.
Log feed speed up to 200 m /min, and the capacity of input log over 10 pcs /min and max over 20 pcs /min. Suggestion of plant for Japanese market is from 50,000 m3 to over 300,000 m3 of the amount of log input per year. LINCK enable to propose suitable line constitute for each single customer.


First installation of LINCK and EWD plant in Japan is in 2017, and it makes big influence to Japan sawmill.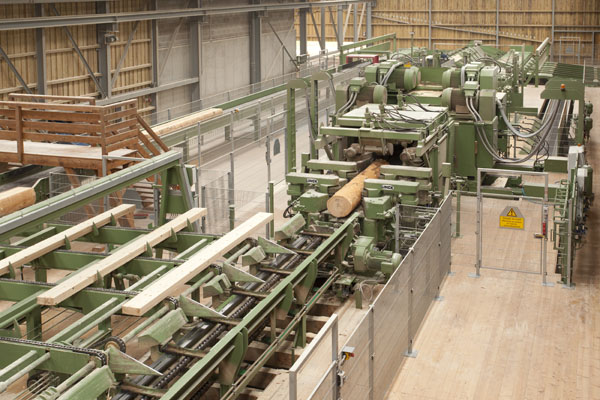 TEL:+81-82-277-5775
FAX:+81-82-278-3143